Shimano Neutral Service: quick thinking & problem solving
Every bike racer has their version of this story. At a crucial moment, there was a hiss and then air was rushing out of her tyre. Or a stupid crash took him down, and, when he went to pick up his bike, his shifter was smashed or his derailleur was bent into his spokes. He called back to the team car; his director and mechanic were nowhere in sight. Races wait for no one. Stuck by the side of the road with a 'useless' machine, he could only watch as his hopes disappeared into the distance. And then, the blue Shimano neutral service car was there with a new wheel or new bike. A good push, and he was back in the race.
No one wants that to happen. Each team carries plenty of spare wheels and spare bikes for their riders. In the case of a mishap, team mechanics are allowed to provide their riders with assistance. This ensures that races are decided by the riders' cunning and the strength in their legs, not potholes or crashes.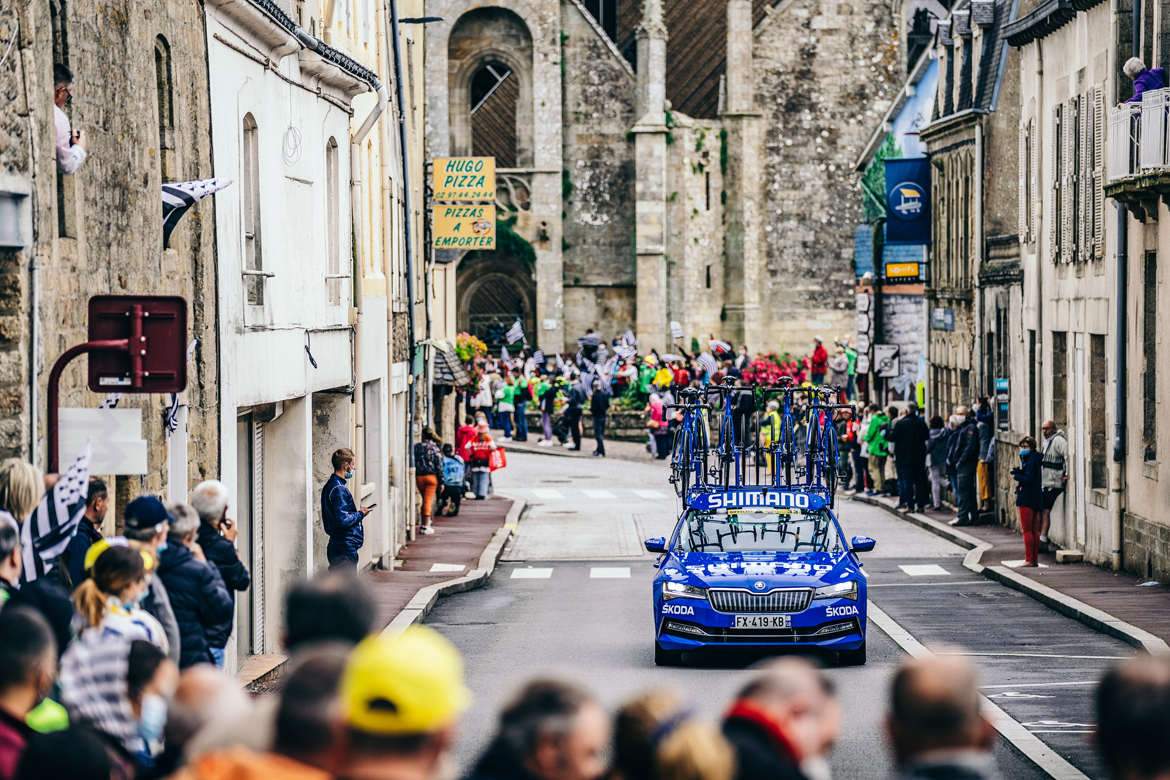 The caravan of team cars that drive behind the peloton is conducted by a race commissaire. Each team normally has two vehicles in every race. When a breakaway gains over one minute, the commissaire allows a vehicle from each team that has a rider in the move to drive ahead of the peloton and slot in behind the break to provide their rider with help if he needs it. If a rider in the peloton gets a flat or needs water, the commissaire radios his team car with the news and allows his director to drive to the front of the procession to help. This system works very well, until it does not.
When races go off script—perhaps, the peloton explodes into echelons in a crosswind or the riders in the breakaway begin attacking each other with 50 kilometres to go, or a GC rider makes a move on the first mountain pass of the day, leaving shattered groups in his wake—Shimano's neutral service cars come into action. For years, Shimano has been helping riders who have been isolated from their team cars with mechanical help in races such as the Tour of Flanders and the Amstel Gold Race, the Olympics, the world championships, the Vuelta, and the Giro d'Italia. This year, Shimano is providing neutral service at the Tour de France as well. When the best bike racers in the world are desperate for help, they look for salvation from a blue car or a blue motorbike.
Providing that help is no easy task. Each team uses different material. Not only do teams in the peloton race on equipment made by different manufacturers, right now there are teams racing on eleven-speed groupsets and teams racing on twelve-speed groupsets, teams that opt for 140mm disc rotors and teams that opt for 160mm disc rotors and teams that combine the two. There are teams that still race on rim brakes, which require quick-release wheels instead of through axles. Different teams use different pedal systems. And some riders set up their bike in their own way, so there is no guarantee that every rider on a squad will have the same equipment. Moreover, no two riders will require the same frame size and saddle height on a spare bike.
In the event of a crash, a flat, or other mishap, Shimano's mechanics have to get the riders going as quickly as possible. A wheel change should take less than 30 seconds. So, when they jump out of the car, gear and tools in hand, they need to know exactly what they are dealing with, so no time gets wasted. That involves a lot of prior research. Shimano's mechanics speak regularly with mechanics from the different teams to keep up to date about any equipment changes the teams might have made. In each of the neutral service cars—there are usually three in every race, plus a motorbike with extra wheels—Shimano's mechanics carry up to nine pairs of wheels, with two pairs for use with rim brakes, four pairs for use with Shimano's disc brakes, including 140mm and 160mm rotors, as well two to three sets made for use with other manufacturers' drivetrains. Shimano's neutral service cars also carry four to six spares bikes, covering four different frame sizes, on their roof racks. During stage races, one is always set to the specifications of the general classification leader, while the others have dropper seat posts, so riders who need a spare bike can quickly set their saddle to a comfortable height.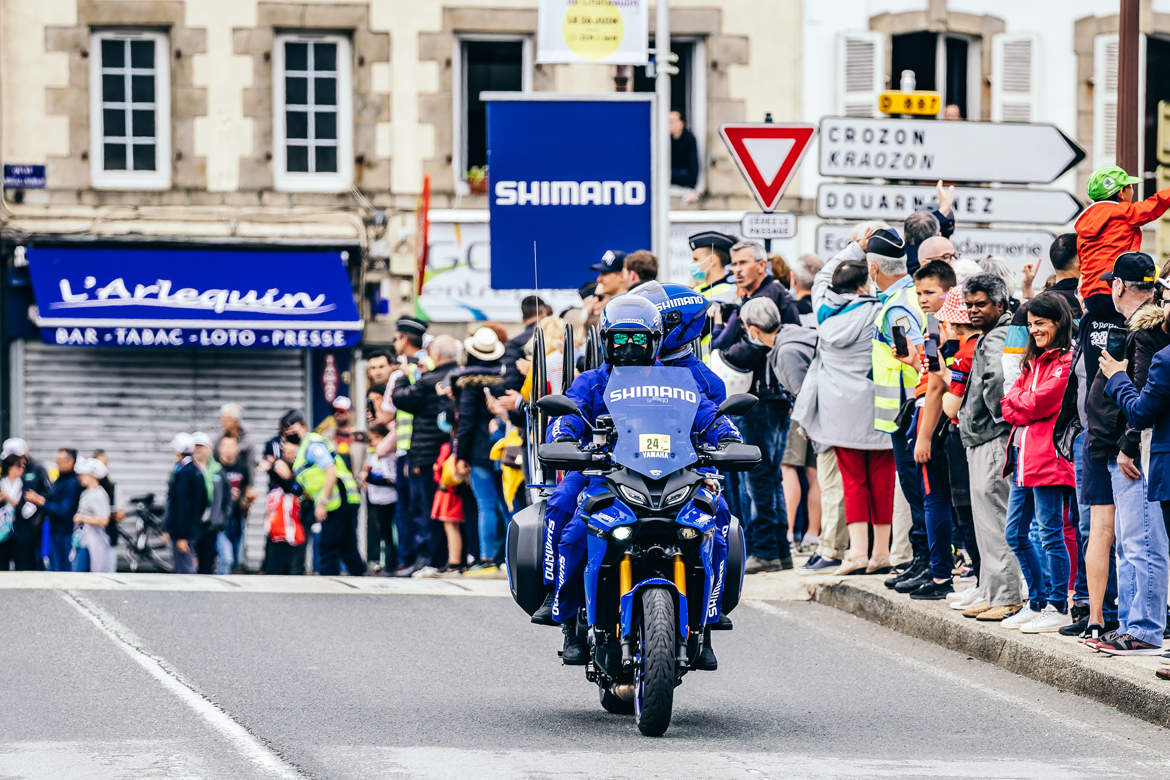 Still, the neutral service mechanics' jobs often require quick thinking and problem solving. They are among the best in the business. Drawn from Shimano's network of Service Centres and connections within the cycling industry, most have decades of experience within the sport. When team mechanics encounter a problem they cannot fix or are not quite sure how a new technology works, they will often turn to Shimano's neutral support team for help. Riders go to them with questions about equipment too. But their expertise is not just mechanical.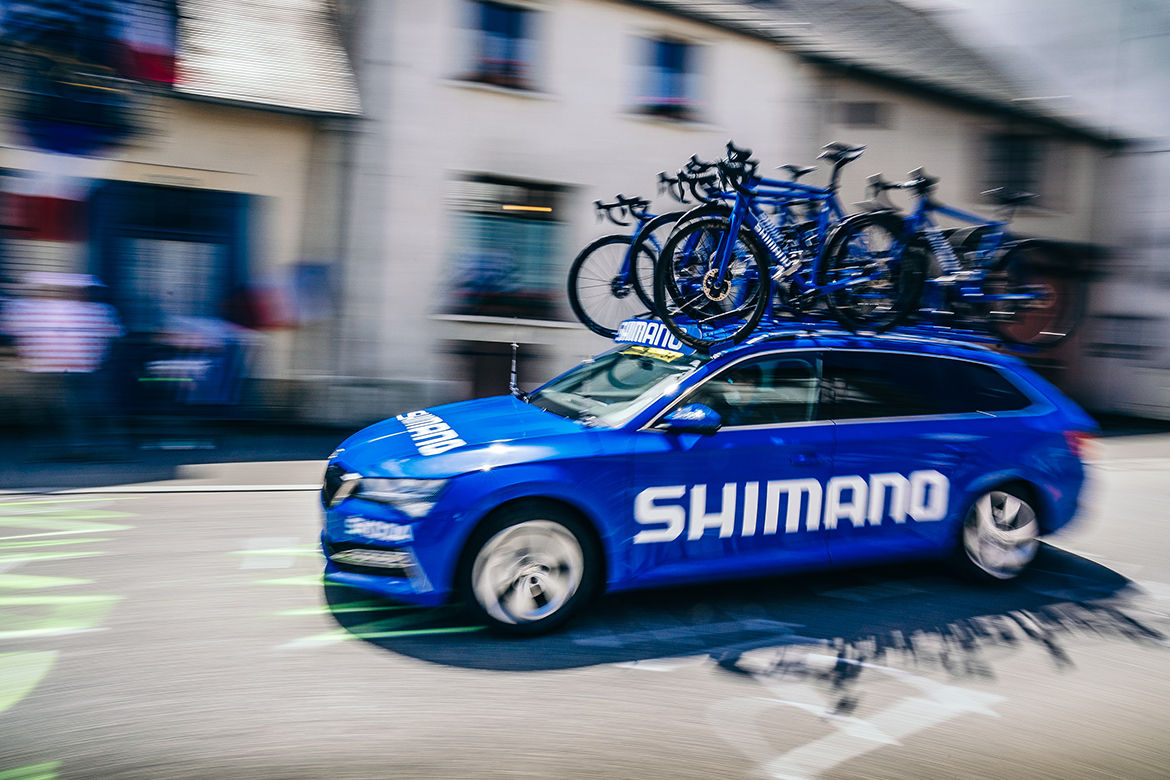 Many of Shimano's neutral service mechanics were top-level racers themselves. They know what it takes to win world championships and Tour de France stages. That gives them the ability to anticipate what is going to happen in a race—especially races that go off script. In coordination with the commissaires, Shimano's mechanics adjust their plans on the road so that they are always ready to provide assistance where it is most likely to be needed. They are good friends with many of the teams' directors from back in their competitive days, which makes communicating with the rest of the caravan a lot easier. And they are comfortable driving 100+ km/h down alpine descents, with riders flying past them on either side, or rattling over cobblestones at speed. Most important of all, they know what it is like to stand on the side of the road with a broken wheel, watching their hopes disappear off into the distance. That's why they take great pride in arriving just on time to provide riders with the mechanical help they need to get back racing.