At Strade Bianche, there's magic in the air along with the dust. What makes us so drawn to this race? What is the key to riding fast on gravel roads? As he seeks a top result in the amateur gran fondo, Dutch racer Douwe Doorduin finds the answers.
A figure emerges from a chalky cloud. He pulls on his handlebars, trying to keep his bike upright on the dusty surface. He almost slides out on a corner. He's sporting a moustache the size of a Cuban cigar and his bike has no gears at all. This mythical man is none other than Maurice Garin, winner of the first Tour de France in 1903 and conqueror of gravel roads long before they became the next big thing in cycling.
Further and faster
With the unstoppable march of John McAdam's invention across Europe from the early 20th century onwards, more and more of these stretches got covered with tarmac. Sure, it added grip and meant we were able to ride even further and faster. Maybe it made cycling as a sport more exciting to watch too. But it also took away some of the romance of riding gravel roads – or strade bianche, as they are called in Tuscany.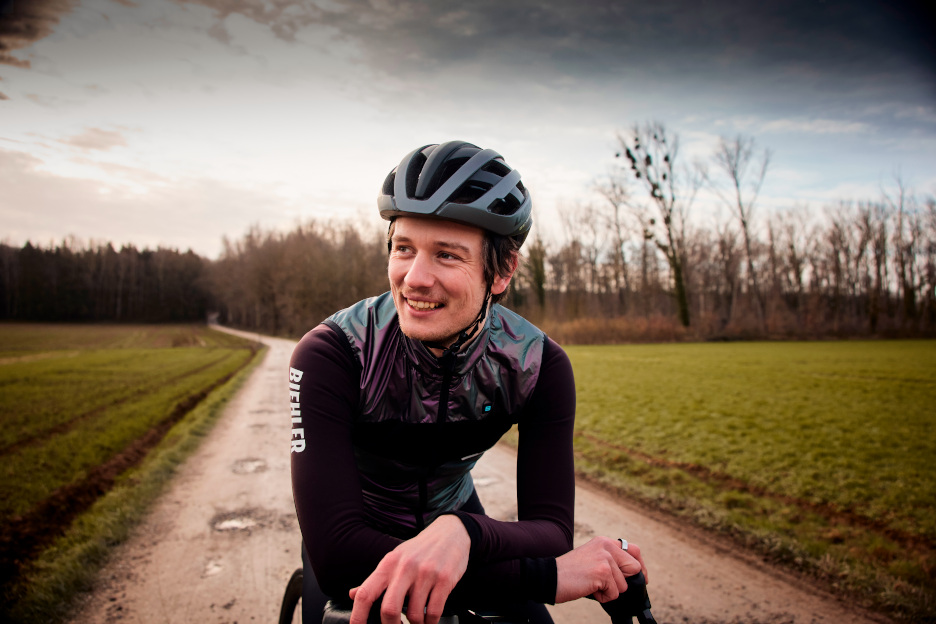 A young man who hears their heroic call is Douwe Doorduin (@douwedoetdingen). He sports a moustache himself and lives in the Netherlands, a flat country with thousands of kilometres of smooth cycling paths and roads. So, he has a lot to learn if he wants to conquer the holy grail of unpaved road races, as he will take part in the Gran Fondo edition, which follows the same route as the pros a day before them.
A romantic dance
Like Douwe, many of us have a special connection to riding strade bianche-style groads. There's a feedback that comes from the gravel, a special energy from the vibrations felt in your body and soul. The magic is undeniable, and that's also thanks to Tuscany's god-given landscape of rolling hills, cypress trees and farmhouses. Douwe is just one of many riders who are drawn to it. "For me, it is the Italian culture and the beauty of doing something on your bike which it is not made for," he says.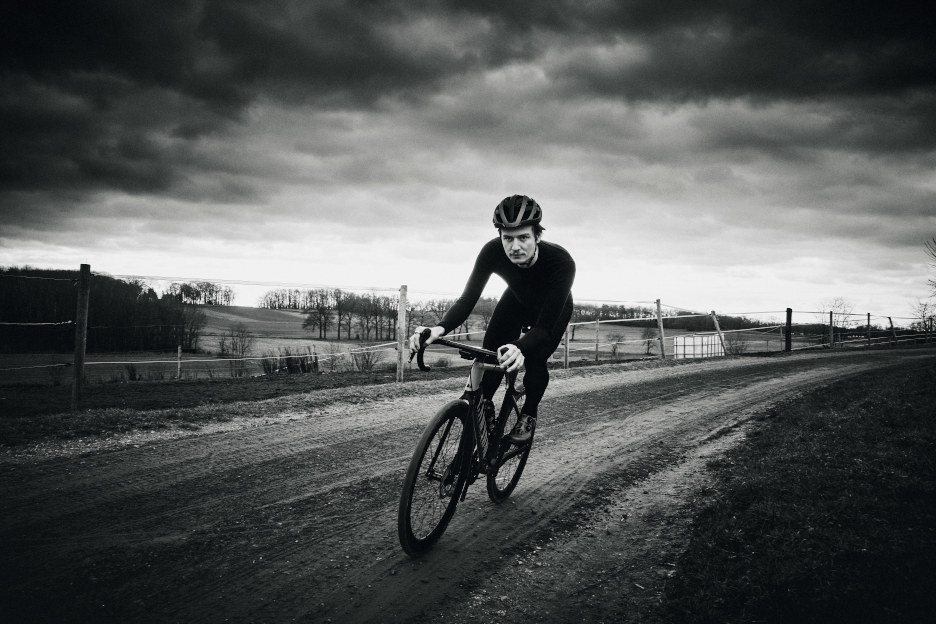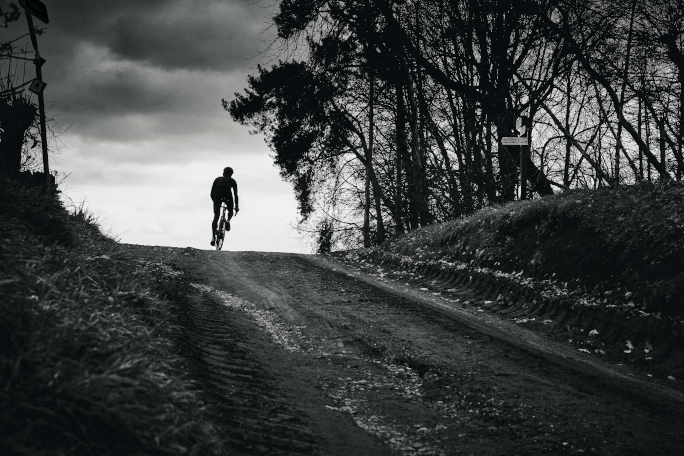 Then there's the way the front wheel jitters and the rear moves around like a tango dancer, searching for grip. The clink of light gravel against bike frame and the pleasing grinding sound from the surface when you speed up – and that's just on the flat bits. Add some steep climbs or fast downhill corners and things quickly get really interesting.
After a career as an amateur-level road racer and bike messenger, Douwe decided to get in touch with his inner Italian and race the Strade Bianche Gran Fondo for the first time. Like many other connoisseurs, he feels the professional race should get the official status of a Monument because of its drama and the way the race hails back to the heroic early days of our beautiful sport.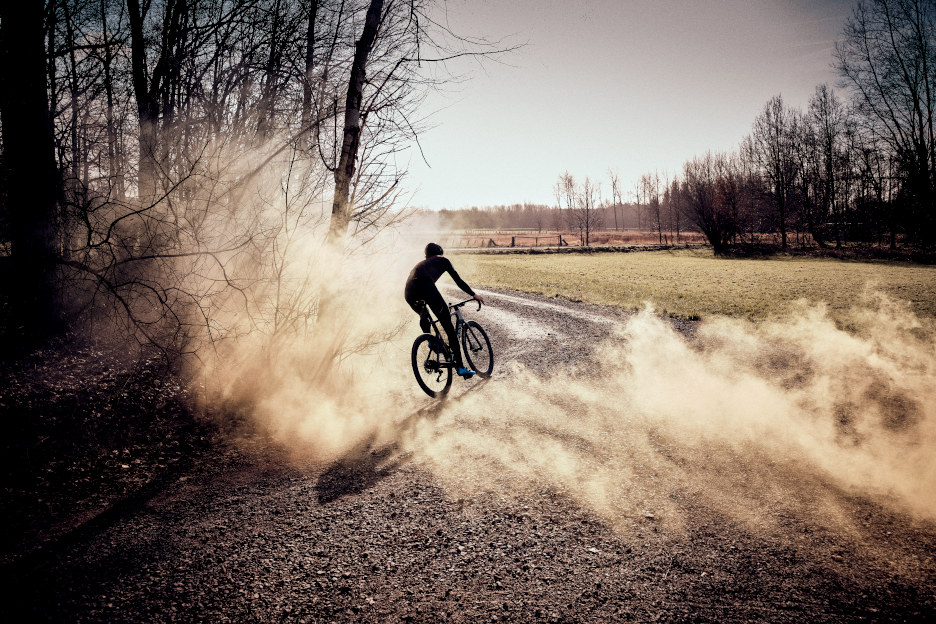 However, his first encounter with unpaved racing, as part of an elite level race in 2015, wasn't a success. "During the Wielerweekend Roden in the north of Drenthe, I ran into my first stretch of gravel," Douwe says. "I remember I was on a carbon bike with at least 7 bar (over 100psi) of pressure in my 25mm tyres when we hit the section at full speed with the main peloton. I knew it was coming, but I still had no chance of keeping up as my bike literally was all over the place. After the first section, I was already at the back of the bunch. After the second, I got dropped and never made it back into contention."
Gravel, the great equalizer
After this dispiriting debut, Douwe decided that he wanted to learn how to ride the white roads. This was in same period as when Fabian Cancellara was showing everyone in pro cycling how you conquer the Strade Bianche like a true gladiator. He dominated the race, with three victories there during his career, even though he weighed over 80 kilos. "What I like about riding on this surface is that it equalizes the field," Douwe says. "Classic riders and climbers were both at the front and it adds more unpredictability, making it into a way nicer kind of race to watch in your local cycling pub, as I was doing in those days."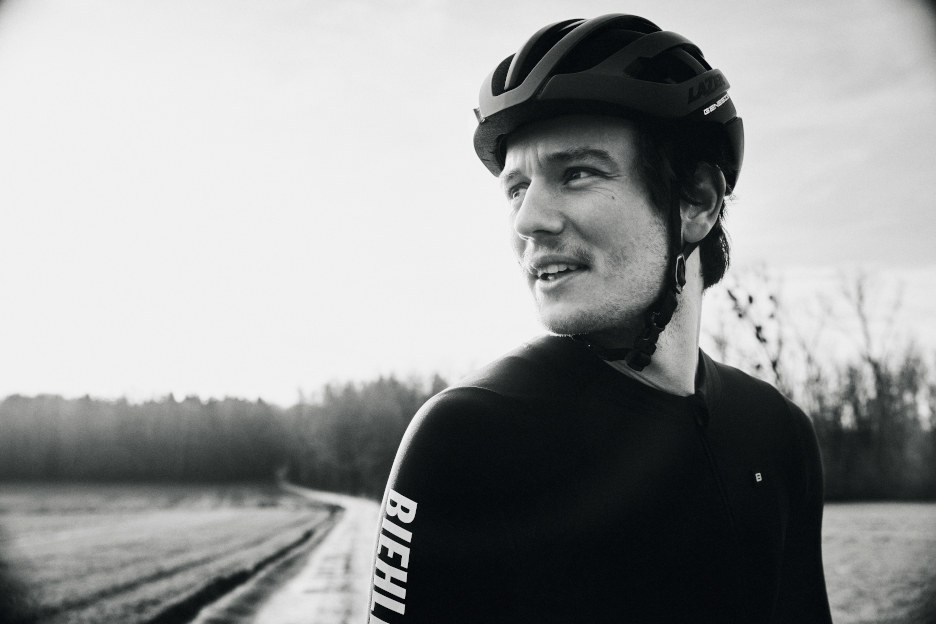 "When you look at the podium finishers of those years, you see all kinds of riders with very different specialities. Fabian was a true Monument winner, the 2015 champion Zdenek Stybar comes from cyclocross and then there is also Gianluca Brambilla, a pure climber. Apparently, they all mastered a way of going full gas on stretches where others couldn't. By watching these races, I slowly but surely spotted some things that I will use in my race in Italy."
Holy rollers
But how do you get ready for Strade Bianche in the Netherlands? How do you find the right set-up for your bike or train the right technique and mindset for attacking the white roads?
Douwe looked for the closest thing he could find that resemble the famous Tuscan gravel roads. He discovered them in Belgium, that other place with plenty of holy cycling places. He chose the dusty farm roads with rolling hills around the Hageland area, also known for its own one-day race comparable to Strade Bianche, Dwars door het Hageland. The first edition was only organised in 2001. But with winners like Mathieu van der Poel, Niki Terpstra and Chantal Van den Broek-Blaak, it has become a prominent race for classy riders.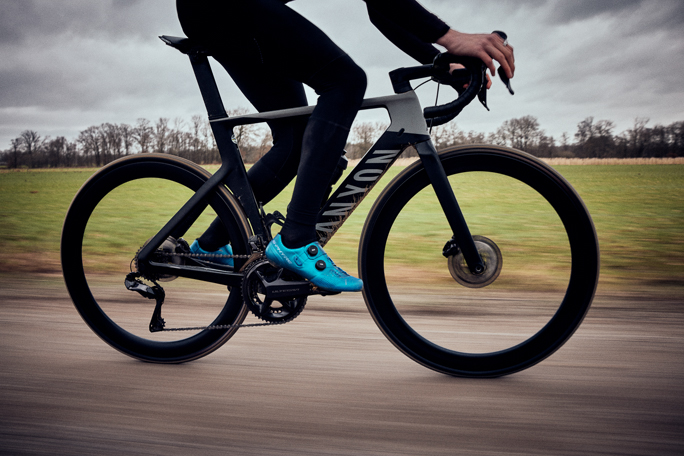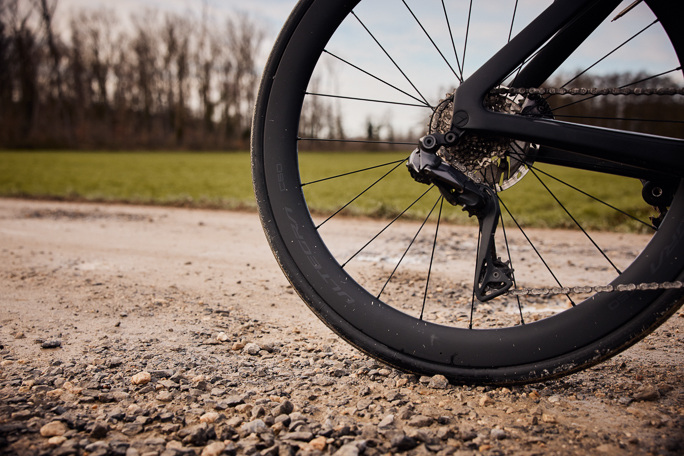 Douwe tackled many sections of Belgian farm trails to get a feel for the best set-up. Let's talk wheels first. With the ULTEGRA C50 wheelset, Douwe's road bike looks the part. But a more crucial element is the updated 21mm inner width of the rim. This allows the tyre to sit wider, creating a greater contact area with the surface and improving grip. As there is no neutral service or team car during the Strade Bianche Gran Fondo, Douwe will have to carry his own puncture kit to repair any bigger flats if they happen, so safety first.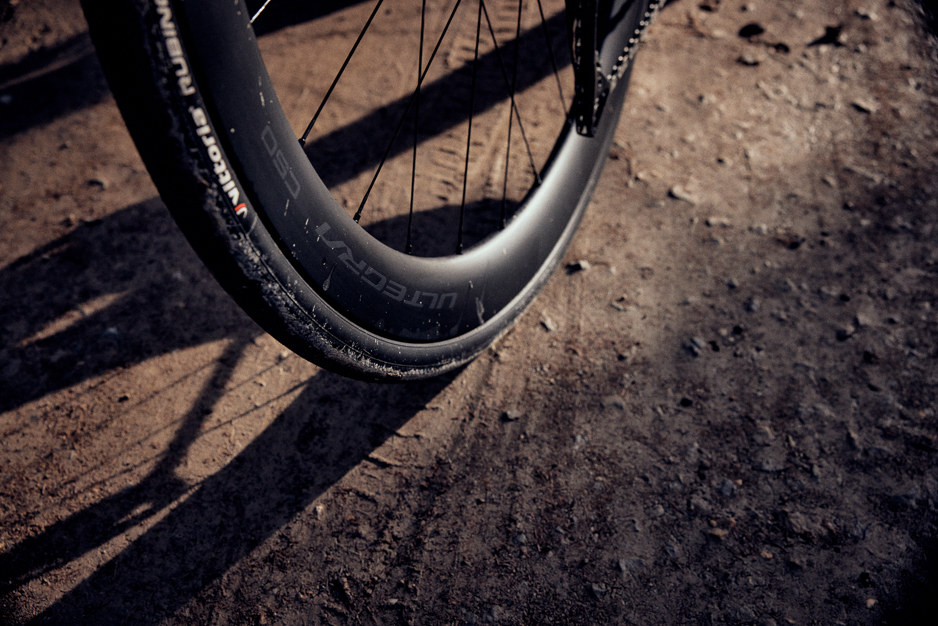 Fatter is faster
Next up: tyres. While some pros even opt for two different widths, he will use a 30mm tubeless front and back after testing 28mm in Belgium and deciding that more is, well, more. Tyre pressure is even more crucial and after a lot of research, he ended up at a general 4 bar (58psi). Douwe choose this relatively higher pressure because of the character of Strade Bianche. The route also consists of plenty of tarmac stretches and paved climbs alongside gravelly back roads. It's about hitting that sweet spot between lower-pressure grip on the strade bianche and minimal rolling resistance on asphalt.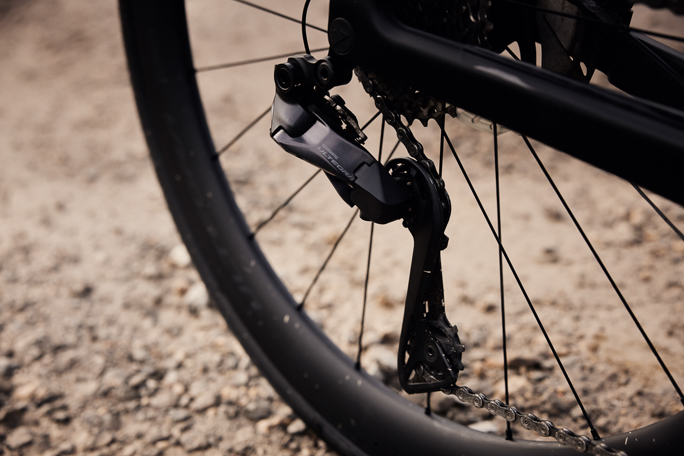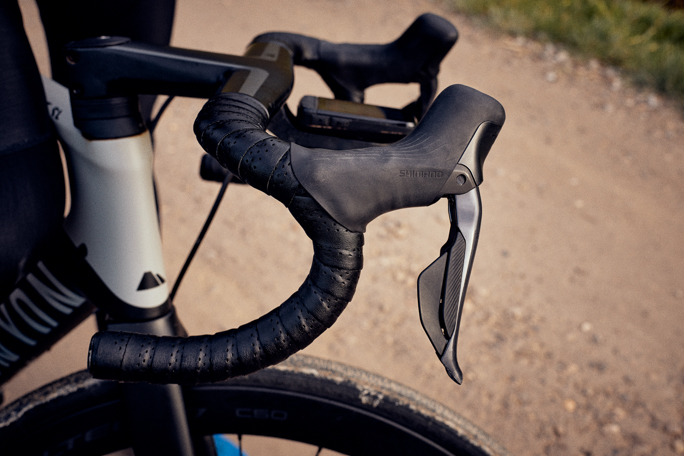 Groupset-wise, there was one clear option for Douwe: the reliable and light ULTEGRA Di2 12-speed. The wireless set-up's ease of use is added peace of mind during challenging rides or races like this. "Every shift is super fast and crisp and you know everything will keep working flawlessly because of the lack of cables," Douwe says. "In the front, I'll run a 50/34 (compact) set-up which actually allows me to power through on the flatter sections and will give me the range I need to keep spinning on some of those short but very steep uphill sections. The inclines, which go up to around 20 per cent, are particularly tricky because you can't really stand out of the saddle like you would on a normal, paved climb."
"Climbing and descending on a loose surface are both so different to tarmac too," Douwe adds. "You have to look even further ahead, be as smooth as possible and really follow the corner and banking. You can't just rely on the traditional racing line technique of out-in-out, you really need to read every single corner by itself. I noticed that by mountain biking, I became way better at riding faster on gravel roads too, especially downhill.
"My other pro tip would be following someone who is more skilled and seeing them pull certain corners off. It makes me try to follow their lines and become faster, step by step. I rode a lot with former pro cyclist Bram Tankink and he really showed me how to corner under speed. Keeping my upper body up straight and pushing the bike away from underneath into the corners. This little trick helped a lot. Also going faster gradually made me find my own limits. Just push 20 to 30 watts more and repeat the same corner over and over."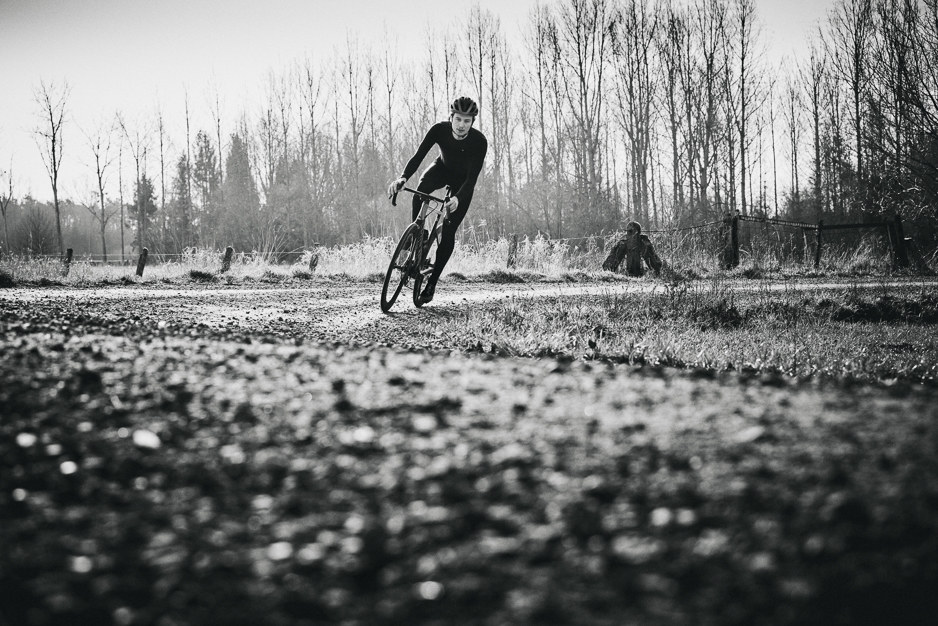 Tip 1: Read every single corner. Don't trust the "standard" technique you use on paved roads. Every corner is different and the ever-changing surface and conditions means that you need to find the fastest and safest line for every turn or challenging stretch of strada bianca.
A rider's position on the bike matters too. Douwe opted to not change the quite aggressive position he is used to, even though the terrain will be different to his flat home roads. He saw that most pro riders also kept their more aero stances to race the strade instead of switching it up. And considering that only about 55 of the gran fondo's 142.5 kilometres will be gravel roads, there is a lot of free gains to be made on the tarmac.
Smoothness and speed
Last but not least: the cassette. For this challenge, Douwe will fit an 11-30. "This set-up with the compact chainrings ensures that I can find just the right gearing for those short and steep gravel climbs. Depending on the weather, you can't just stick to one side of the 'road' here. There can be gullies or places where parts of the surface has been washed away after wet weather. And if things are dry and dusty, you can't just power uphill, you need to apply the pressure smoothly to the pedals while trying to maintain your speed."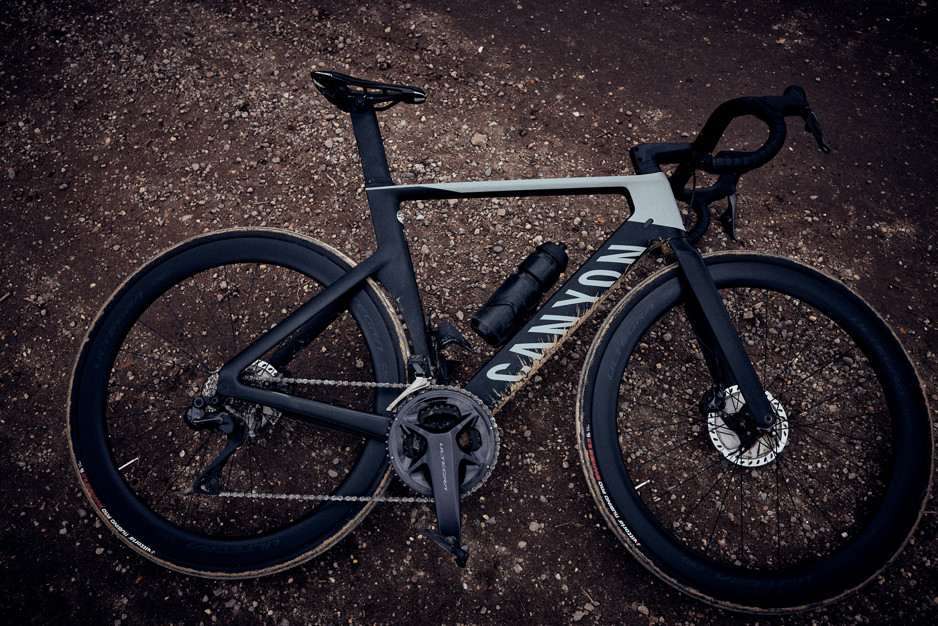 "There is so much still to learn and my ride along the Hageland roads taught me quite a few new things. Depending on the weather, finding the fastest line through corners and on straight sections becomes even more tricky. Especially when there is a mix of dry and wettish surfaces. Then you really need to dance with your bike. I was also pleasantly surprised by how capable my Canyon was on those rough backroads. Bikes these days can take a lot and you shouldn't hold back, especially on those super fast C50 ULTEGRA wheels!"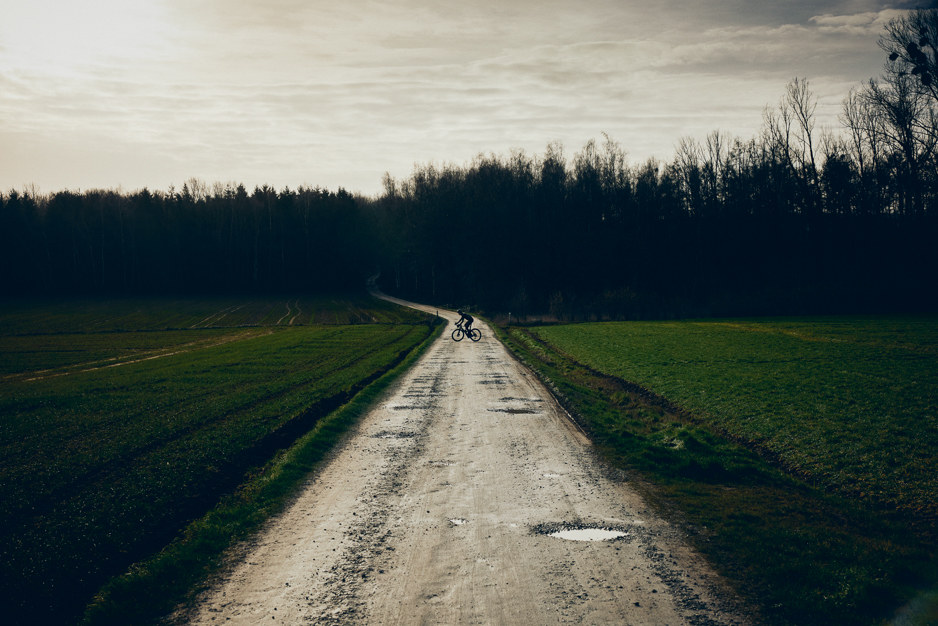 Tip 2: Climb in the saddle. The slippery surface prevents out of the saddle climbing. Train for this and make sure you have the right gearing. Spinning is winning, in this case, so my 34-30 smallest combo will be used on some especially stiff sections.
Almost there
"For a few moments, I actually felt I was already racing the white roads in Tuscany. Those flowing Flanders hills and farm tracks got me even more amped up for this event than I already was," Douwe says. "I just need to change my tyres to the 30mm ones, add some protective foil to the downtube of my frame (thanks to one of my followers for this tip) and I am all set." His goal is a top-50 finish position. "This will be tough as the race attracts talented riders from all over the continent and it is not just a sportive, it's an all-out race. Now I can't wait to get down to Siena and both watch how the pros do it and experience the magic of racing the white roads myself."
Tip 3: Choose your tech wisely. Don't forget there are at least 85 kilometres of paved or downhill sections as well. So a light, nimble bike and fast carbon wheels are ideal.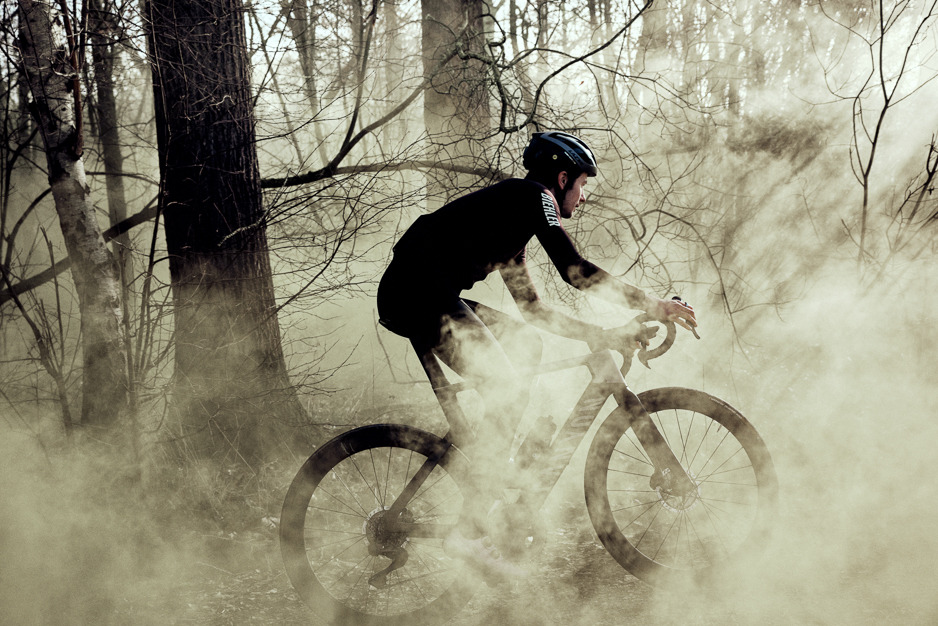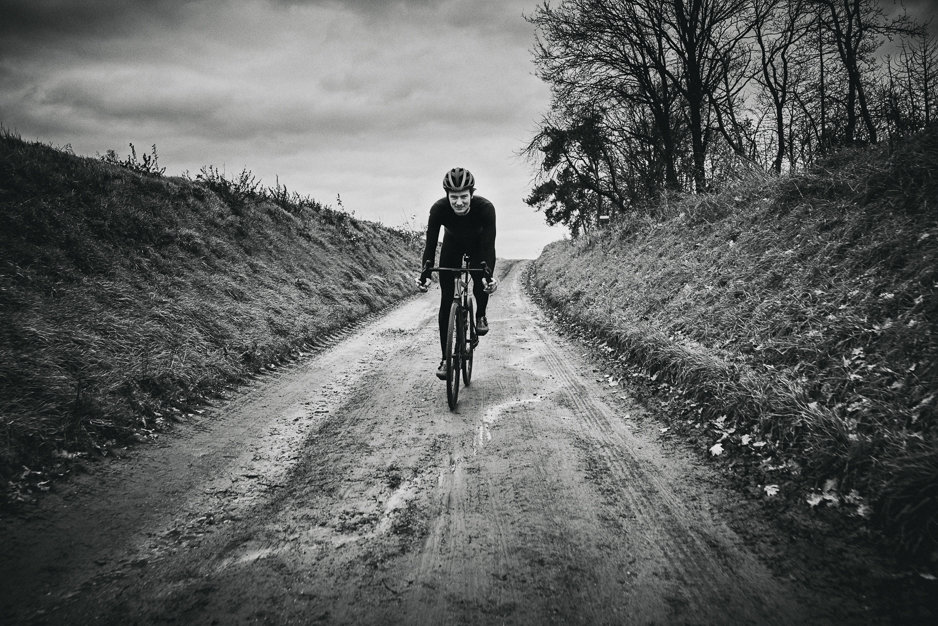 STRADE BIANCHE GRAN FONDO
Facts and figures
Date: 5 March 2023
Start and finish: Siena, Italy
Route: 142.5km
Strade bianche gravel sectors: 54.7km
Total altitude gain: 2,250 metres, 1,285 of which are on gravel roads.