The following story is an excerpt from CADENCE, a collection of road cycling tales from around the world. Each piece is told to inspire, to bring us closer to the characters and communities, near and far, that are all connected by the common bond of a life lived on two wheels.
Editor's Note: Chris Cosentino doesn't like to toot his own horn. A self-proclaimed "glorified dishwasher," he would rather clean the grease trap than recount his own accomplishments. Those accomplishments are noteworthy nonetheless, so we'll do it for him:
He's won Top Chef Masters, runs some of the most celebrated kitchens in San Francisco, starred in a TV series and has written an award-winning cookbook. His expertise and love for both cycling and food are the reason he went to Japan, to explore Sakai, and give us all a taste of Shimano's birthplace.
From the moment I hit the ground in Japan, the excitement is so thick I can cut it with a knife. I've touched down in Sakai, a small manufacturing city outside of Osaka and the hometown of Shimano, to explore the culinary and cycling heritage of the region. I'm here to see what makes this part of Japan so special.
The road to deliciousness starts right off the plane as we head to an okonomiyaki restaurant that specializes in savory Japanese dinner pancakes. There, I meet Eda and Kura, who work at Shimano. They will be my tour guides and translators for this three-day whirlwind tour of food and bikes. We make introductions with kanpai, the ubiquitous Japanese tradition of pouring each other's drinks so as never to leave a glass empty. Though I don't drink alcohol, Eda and Kura have ensured that there is NA beer, so we can all partake in this time-honored ritual of conviviality that bonds our new friendship. In the midst of my first full meal of the trip, I'm already immersed in the powerful sense of tradition that flows through Japan.
Among the traditions of the country and region, Sakai stands out as a hub of craftsmanship, specializing in the art of metal fabrication. People around the world covet the blades made here, from samurai swords to chef's knives. To witness this process first hand, we head to Takayuki Sakai, one of the most celebrated knife manufacturers in one of the most fabled knife making regions in all of Japan.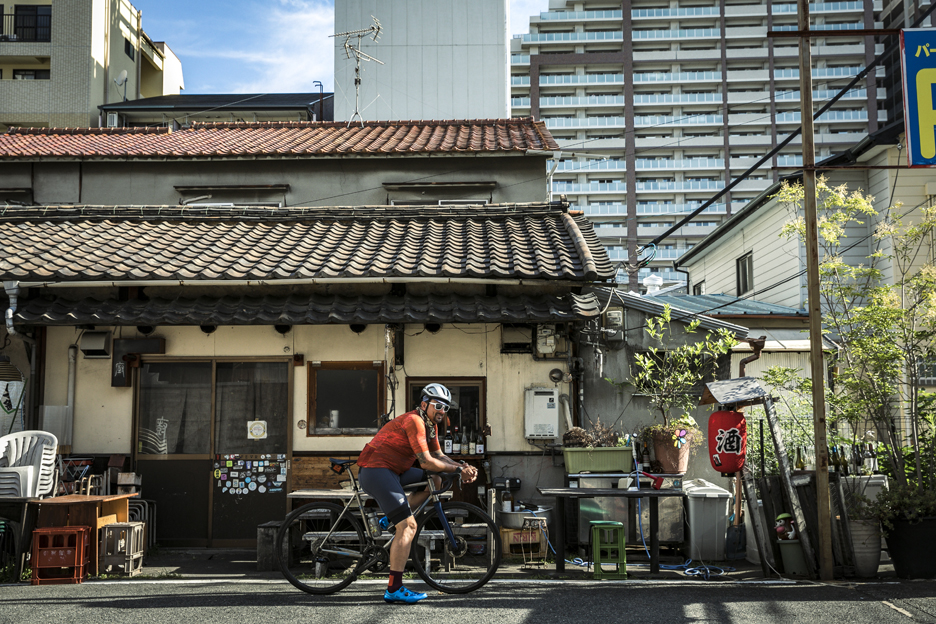 We walk onto the production floor and meet Master Itsuo Doi. He stands in a waist deep hole next to a fire pit, slowly shaping each blade using his grandfather's iron hammer. He is the third generation in his family to forge knives in this traditional way. These blades are made using a time-intensive process that removes impurities and hardens the steel to make these knives strong and durable. Though he's laser focused on the temperature and the process, he smiles all the while, happy to share his family craft with visitors. He has an air of calm while also commanding respect and admiration from the staff and everyone who meets him.
As a young cook, I saved all my money to buy a Japanese knife. They are cherished in kitchens across the world as blades that become an extension of the individual using them. They are tools that are often kept for an entire career and even passed down to family members. Witnessing a master at their craft is such a thing of beauty, and as I admire Mr. Doi's work, he hands me an unfinished petty knife, a gift born from three generations of knowledge and skill.
Sharpening and polishing will turn this raw blade into a finished knife. In the next room Mitsuo Yamatsuka takes the blank from me, and nails it to an old wooden template to set the edge for the traditional shape. He works with his entire family in the grinding room, his daughter and two sons, setting, shaping, sharpening and polishing each knife. The shapes and styles of the Takayuki Sakai knives have been honed and refined over 600 years.
The finished blade is carefully wrapped in oiled paper, and it is now ready for a handle. Amazingly, they have let me help in every step of the process, from heat treating to pounding. This knife has been truly crafted for me, and I will cherish it. We are taken to the showroom, and look in awe at the incredible array of knives. One of the final steps involves etching, with the masterful Michiko Kubota who taught herself to inscribe knives with one-of-a-kind artwork that she designs specifically for each customer.
I'm so absorbed in the process, and each craftsperson is so eager to share their work, that we take two extra hours at the factory. We're now starving. Time for a quick bowl of ramen. Even though the place we find has a queue down the street, it's a very fast process. This is Japan's version of fast food, and we order at the vending machine, yes, a vending machine. It offers personalized ramen preparation: different sizes, extra toppings, in broth or broth on the side, extra noodles, beers, etc. We punch in our orders, pay the machine and out pops a food ticket. We take a seat and minutes later exchange the ticket for a fresh bowl of ramen. It's a beautifully rich and creamy pork broth, toothsome noodles, unctuous pork and jammy boiled egg. The broth is key as it has been cooked so the fat emulsifies with the protein in the stock to create a rich broth that feels and tastes incredible.
Refueled and ready to explore the cycling heritage of the area, it's off to the Shimano Bicycle Museum. Upon arrival several groups of school children are in the middle of an exhibit, sketching the different bikes on display. Our tour guide Masahiko Jimbo, who has worked at Shimano for 38 years, explains that the children are part of a drawing contest aimed to promote cycling and education in the local schools.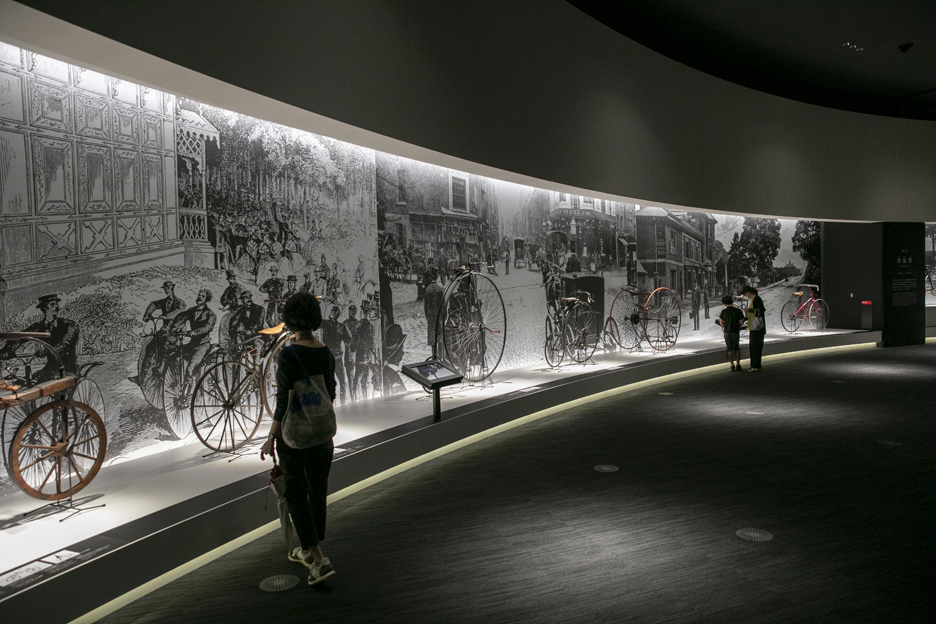 The future generation is here to experience the history and evolution of the bicycle just like us. This museum is both a carefully curated gallery of Shimano parts and a comprehensive celebration of the bicycle and its history, preserved for all to enjoy and appreciate. It's astonishing to see the collection on hand, from the very first bicycle, an adult scoot known as the velocipede, to a bone shaker, penny farthing, milk delivery bike, six-person racer and all the way through to the most modern racing machine. There are frames made of wood, steel, titanium, carbon and magnesium, wheels of all different sizes, drivetrains with every gearing that ever existed. Every kind of bicycle imaginable is on display for all to appreciate. In the midst of admiring the history before me, Mr. Jimbo explains that Shozaburo Shimano, founder of the original SHIMANO Iron Works in 1921, began his career as a knife maker. His understanding and expertise of heat treating metal to make it stronger and more durable, led him to wonder what else he could do with this skill. He looked at the bicycle and realized that he could improve the drivetrain, especially single-speed freewheels, using the skills he'd honed as a knife maker.
As Mr. Jimbo explained the origins of Shimano and that very first freewheel that the company produced in the early 1920s, I couldn't help but relish the serendipity of watching Mr. Doi forge and heat treat those knives earlier in the day. My worlds of cycling and food were closer than I could have ever imagined, especially here in Sakai. While the pursuit of perfecting finely crafted knives and bicycle parts have made this small city famous, I've long been fascinated by another Japanese relationship with perfection, wabi sabi. Wabi sabi celebrates the beauty of imperfection. Nothing more represents this concept to me in the culinary world, than offal or off-cuts of meat, which the Japanese call motsu.
I've dedicated a large part of my culinary career to learning to make these cuts more accessible and delicious to people. It's a never ending pursuit to learn how to perfect the cooking of these seemingly imperfect parts, so anytime I'm in a new place, I love to learn how local chefs and food traditions treat these cuts.
I couldn't go home without sampling the local motsu, which brought us to dinner at Kuriya, a restaurant known for serving these offcuts of beef and pork, cooked on a grill at your table. This type of meal has become a celebrated part of Japanese cuisine, not just for its taste, but out of practicality. The country has limited space for cultivating produce and raising meat animals, so maximizing the yield is standard practice. Beyond the practicality of it all, the comprehensive use respects the life and energy that has gone to produce these products we are about to eat. We sit outside in a small parking lot, cooking on a binchotan, a grill with special charcoal that doesn't flare up as the grease and fat drips off the meat. This cooking style preserves the flavors and also avoids any burnt taste bursting onto the meat. I'm in my element. My cooking skills are coming into good use here as each cut is unique and needs to be grilled differently for the best texture and flavor. There are so many unusual cuts–beef cheek, calf liver, mino (which is a unique cut of tripe), throat muscle, inner skirt, outer skirt, beef tongue, chicken neck muscle, all with specific sauces for dipping.
The traditional kanpai leaves no glass empty as we consume round after round of this freshly grilled offal. The celebratory glass filling and a meal cooked over a centralized grill offers a uniquely Japanese flavor to the most universal feeling of conviviality and hospitality that comes from sharing a meal together.
Though we're full of drinks and freshly grilled offcuts, there's no escaping the next morning's early roll out to ride before it gets too hot. Not a problem for me, as jet lag has me up and outside at 4 a.m.. The singing cicadas sound like a thousand car alarms going off at once. Apparently, it's the sound of summer here.
The ride takes us from Sakai to Kyoto, beginning at the 450-year-old Osaka Castle. We wind through the city to a bike path that follows the river, past baseball fields, runners and cyclists of all ages. We pop off to grab a quick snack and water at a 7-Eleven. It's a very different kind of mini-mart experience than I've ever had in the US. This one is packed with an incredible selection of healthy, delicious foods. There are onigiri rice ball flavors like salmon, sesame spinach, seaweed, tuna, spicy pollack roe, spicy tuna and vegetable. The coolers and freezers are filled with cold meals and treats, like a egg sandwiches with perfectly jammied yolks, ice creams galore, frozen fruit, iced coffee drinks, eight different non-alcoholic beers and my new favorite drink, Pocari Sweat, a Japanese electrolyte drink, which comes in handy with the heat. Mid-summer here is hot, like 98-degrees Fahrenheit with 100-percent humidity. Stifling!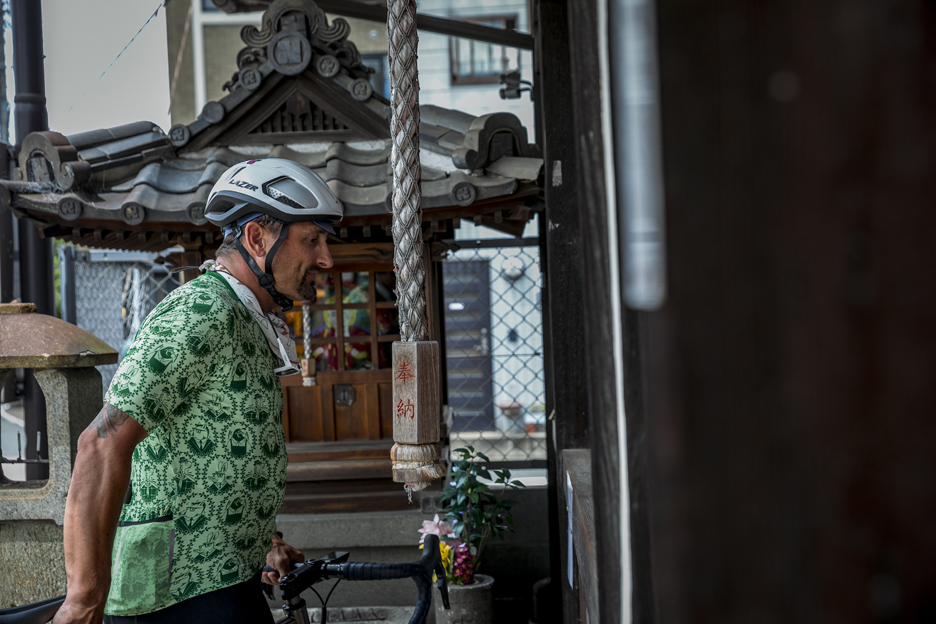 Fueled with iced coffee and a NA beer kanpai, we're back on the road to Kyoto. Our destination is the ancient temple of Fushimi Inari-taisha on Mount Inari. It is stunning with rows of orange pillars and arches leading to the top of the mountain. This is a place of reverence with people and families gathering to pay respects, give offerings and pray with the ring of a bell.
Outside we see women in traditional kimonos eating ice cream. They laugh at me as I ride by, no doubt amused by my glorified underwear also known as a bike kit. After plenty of laughs, silly behavior (images to never be seen), we head back on the road to our next surprise. Once in Kyoto center we meet Okajima of Haura who makes vibrant cycling caps and bar tape from fabric that he custom prints. He uses the same process that his family's company has been doing since 1855, the traditional art of hand dying fabrics used for kimono liners, known as Kyo yuzen.
The next morning, it's again an early call to beat the heat, and we ride through the rice fields to Niwadani outside of Sakai. The variety of rice grown here is Koshihikari, which has a balance of sweetness and stickiness. Japan has cultivated rice as part of its economy for over 2,000 years, and at one point rice was used as a form of currency. This grain undoubtedly forms the backbone of Japanese cuisine and food culture.
The rice fields are lush and the roads are empty of cars except for an occasional tiny work truck. A shrine sits right in the middle of the road for people to pay their respects and give prayers. There's great riding out here with some punchy climbs in what feels like the middle of nowhere.
All of a sudden, a surprise vending machine pops up filled with ice cream, noodles and drinks of various temperatures. It's scorching hot already, so we all opt for ice cream to cool down. We ride the hills passing baseball fields, a pig farm and a golf course hidden in some woods, all on a one-lane road. As Kura smokes me on a climb, I regret my choice of having an ice cream in this heat.
Before heading back to the hotel, we make a quick detour to Shimano headquarters. There is a shrine that was built to respect the butchers who once worked in this part of the city. Long before Shimano established operations here, this was the center of the Sakai meat market. Though the industry has changed, the reverence for the workers and sustenance of the past remains.
It's a quick hotel turnaround before we're on the train heading to the downtown center of Osaka, 13 kilometers away. The capital city of the prefecture is packed with all kinds of people from school kids taking selfies to families on shopping days to folks gambling at video pachinko parlors. Everywhere we walk, lights flash and music blares like a never ending rave. We wander into the main mall, where the bottom floor is food heaven. There's a triangle watermelon that costs $1,500, crazy cuts of Kobe beef, a section dedicated to all offals, perfect seafood and a full eel section. There are sushi chefs, chocolatiers, a hundred different types of miso, an area with seemingly endless styles of fermented vegetables, bakers and just about every kind of food imaginable. There's even a celebration of Mexican food with a mariachi band serenading the crowd.
We turn onto the central street that houses myriad small restaurants all crammed next to and on top of one another. Each hole in the wall serves a different specialty. There's tempura on a stick, pork buns, ramen, and my favorite, takoyaki, also known as exploding balls of hot octopus. They are oh so delicious but oh so capable of destroying impatient mouths. I exercise a bit of control and combine the takoyaki with kewpie mayo, special sauce, shreds of nori and dancing bonito flakes. It's epic.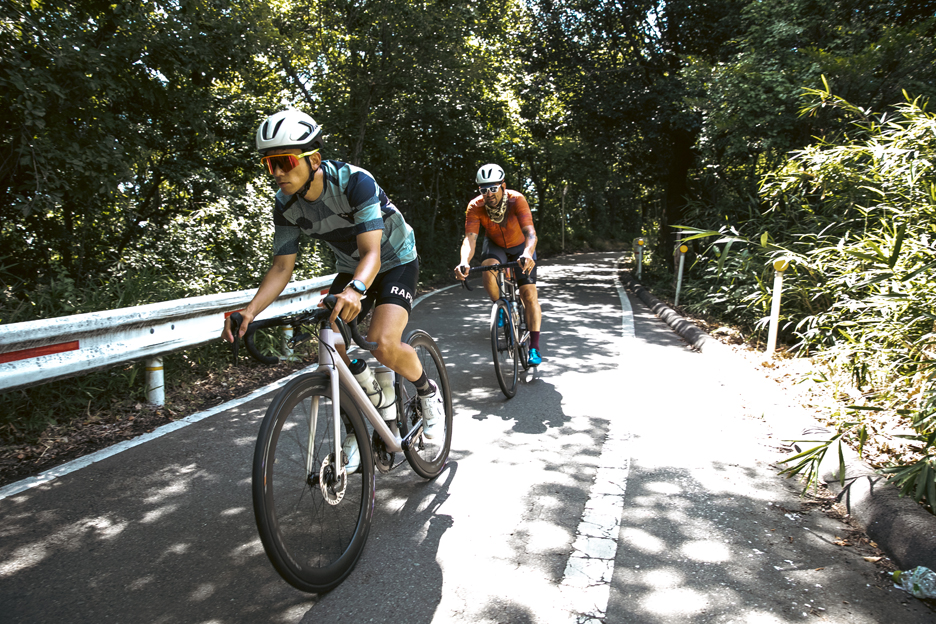 Amongst the chaos we slip into a tiny sushi spot that turns out to be a multi-generational family run restaurant. Here, grandparents, parents and children prepare a select few specialty items that they've perfected over the years. It's sushi and only sushi on a menu full of fresh fish, like baby sardines, mentaiko, two types of uni, all types of tuna cuts, herring roe and sea clam just to name a few. It's a calm moment in a giant storm of restaurants with hordes of people flowing by outside. Perfection is everywhere amongst the chaos, you just have to slow down and focus in to find it.
Perhaps perfection isn't the right word, as in Japan there is no perfection per se, but rather the never ending quest to get there. This is known as kaizen as Eda and Kura explain to me. It's what causes people to pass on their knowledge and expertise, in hopes that the skills will live on and improve generation after generation. It's a concept that's easy to appreciate. I've often had a similar philosophy toward cycling and cooking–I just didn't know there was a specific word for it. For me it's always about improvement. The moment you think you have learned enough or are strong enough, is the moment you're about to learn you're wrong. Perfection is a pursuit. Though this trip feels perfect, Japan has so much to offer, I'll no doubt be back for more.