Shimano has been running its Neutral Service since 2001. In 2023 our service is operating from bases in Benelux, Spain, France, Italy, Portugal and Turkey with cars and motorbikes plus drivers and mechanics who support riders in professional cycling races.
Neutral Service vehicles carry spares of the components used by all teams. The majority of teams use Shimano components, but competitor pedal systems and drivetrains also feature within the Neutral Service cars.
The Neutral Service cars often resemble a mobile workshop, carrying multiple bikes on the roof and multiple spares and tools inside the car. This ensures that both the racing and the riders themselves can continue in the event of mid-race circumstances.
This infographic from the Shimano Neutral Service offers you a clear overview of what it is all about, how many people are involved and how many equipment we bring to races like the Tour de France.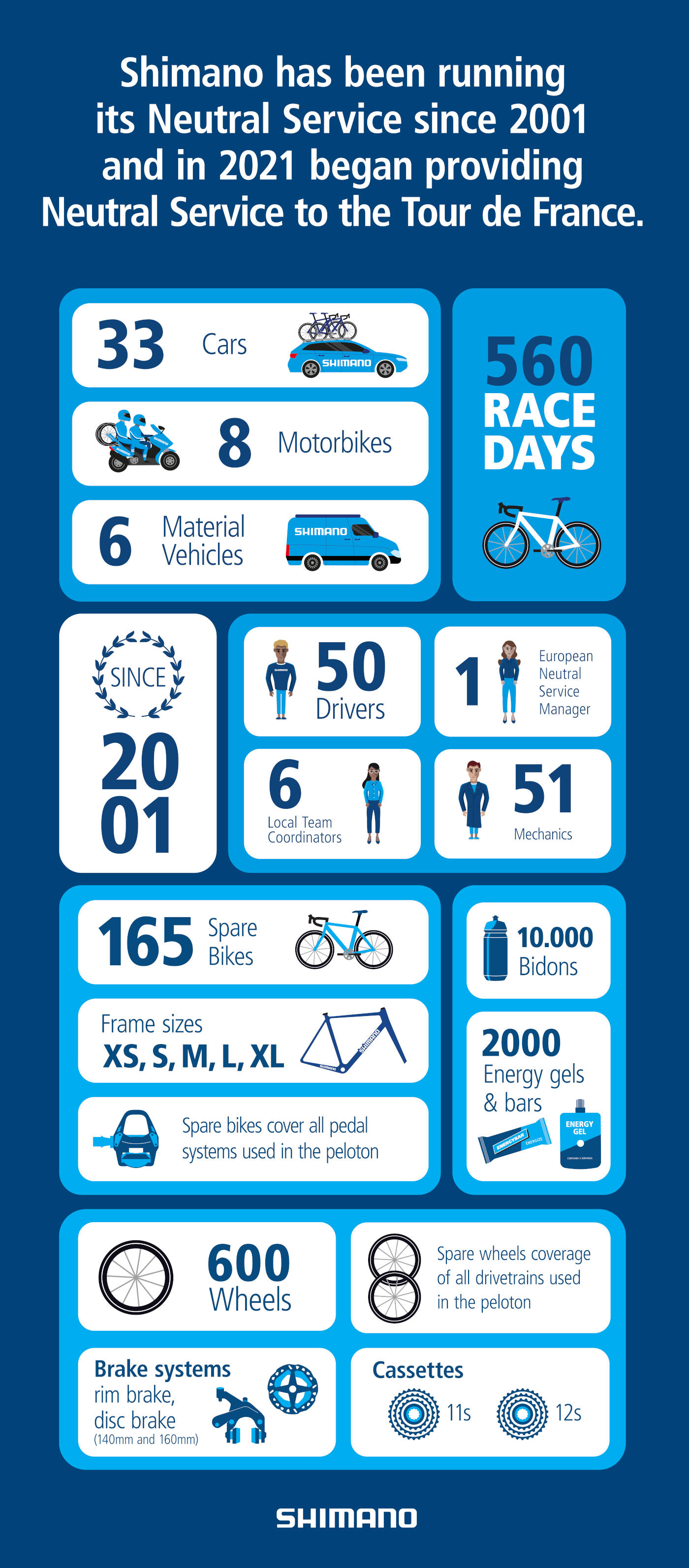 By operating with six Neutral Service teams across Europe, Shimano manages to cover the biggest professional road races in the world, such as all 3 Grand Tours, the Tour de France Femmes avec Zwift, the World Championships, all 5 cycling monuments, all major 1-day spring classics for both women and men as well as many other races on the UCI women's and men's calendar. Shimano also provides Neutral Service in U23 and junior races, on the cycling track as well as in para-cycling races.
The Neutral Service mechanics' job often requires a quick thinking and problem solving mindset. They are among the best in the business. Drawn from Shimano's network of Service Centre's and from connections within the cycling industry, most have decades of experience within this sport.
In a new content series – Human Science – we will be joining the Shimano Neutral Service team members at some of the year's biggest races, spending a day in their life as we get to know them and learn exactly what it takes to serve these riders on the world stage when the pressure is high.
Watch here the last episode: