Digital Integrated Intelligence
Electric drivetrain with the best of brains and brawn.
The revolutionary DI2 shifting system solves the challenges drivetrains present to the power-delivery equation in cycling. DI2 gives you instant, accurate, lighting-fast shifts the first and every time, at the push of a button. Even in the most extreme conditions, shifting is precise and controlled. You can change gear even under heavy load while climbing or accelerating. With DI2, you are in complete control.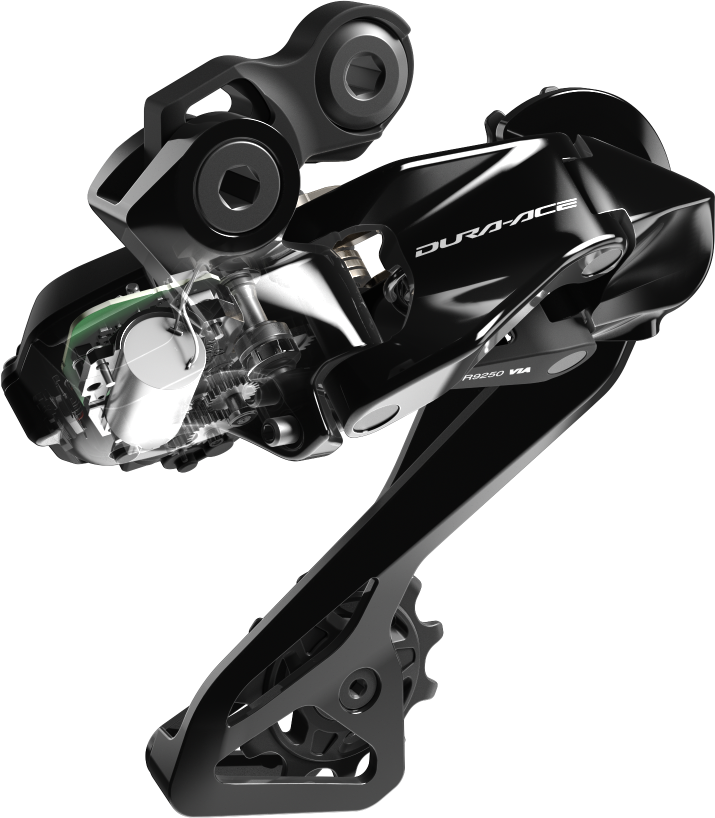 Main Features
Fully customizable through E‑TUBE
Quick and smooth shifting 'under' high pedaling torque
Super long battery life
Reliable in all weather conditions

E-TUBE PROJECT Cyclist APP
CUSTOMISABLE SETTINGS OFF THE BIKE
SHIMANO's E-TUBE PROJECT Cyclist application allows you to customize your bike, update firmware, and maintain it by connecting wirelessly to your bike. For more detailed bike maintenance, home and shop mechanics can connect their bikes by wire with E-TUBE PROJECT Cyclist for Windows application.
Download the E-TUBE PROJECT Cyclist app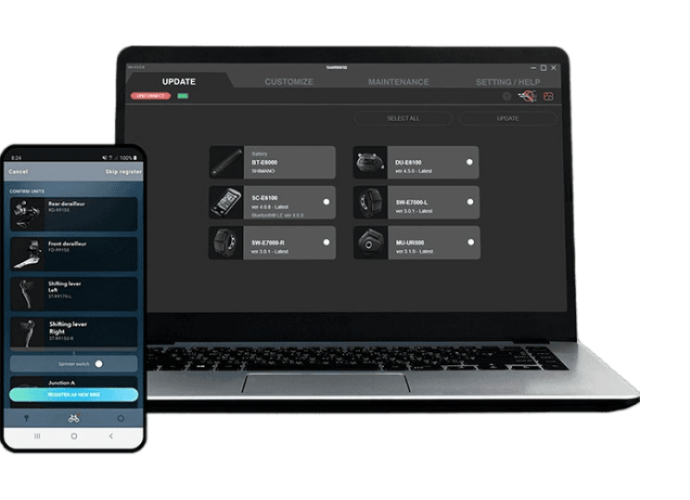 Main Features
Firmware Update
Easily update to the latest firmware with the user-friendly interface
DI2 Setting
Design your favorite DI2 gearshift sequence using Synchronized Shift
2 Assist Profiles
Set two e-bike assist profiles to your preference, and customize the assist characteristics according to the riding situation
Derailleur Adjustment
Easily adjust both front and rear derailleurs via application

E-TUBE RIDE
FROM A SMARTPHONE TO THE CYCLING COMPUTER ON THE BIKE
SHIMANO's E-TUBE RIDE application allows you to visualize your ride with a route map to your destination, a real time ride data display, and to record data on your smartphone while you are on the bike. You can also seamlessly upload your ride data to Strava.
Download the E-TUBE RIDE app



HOLLOWTECH II
Providing the best balance of stiffness, strength, weight and rotating performance
HOLLOWTECH II technology is focused on producing a superior crankset which maximizes a rider's power transfer. A rigid crankset ensures pedaling efficiency while light weight aids in cycling longer distances with less effort.
Balancing these demands led SHIMANO to develop HOLLOWTECH, an ultra-light, hollow crankarm that uses the company's proprietary forging technology to maintain rigidity. HOLLOWTECH II takes the technology a step further by integrating the bottom bracket axle with the right crankarm for increased stiffness and weight savings.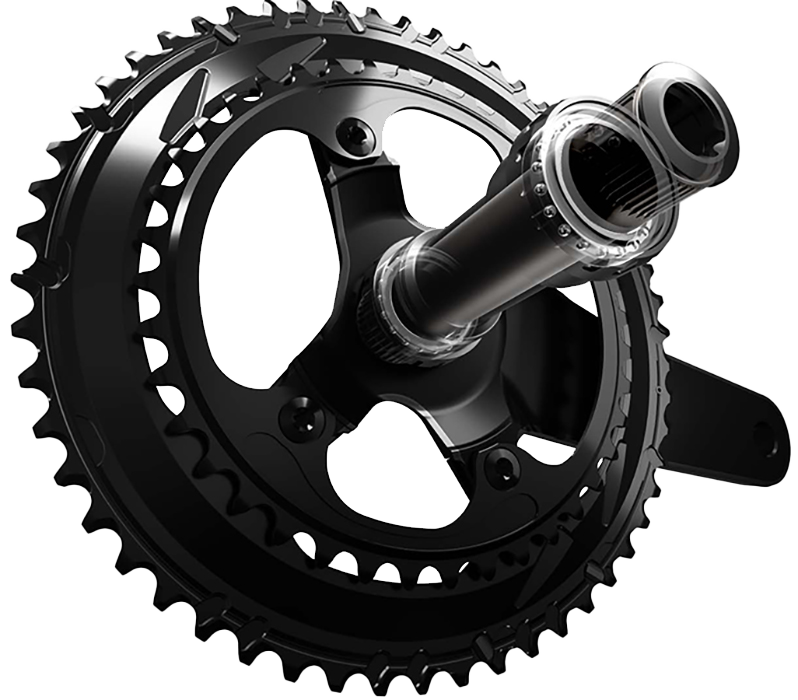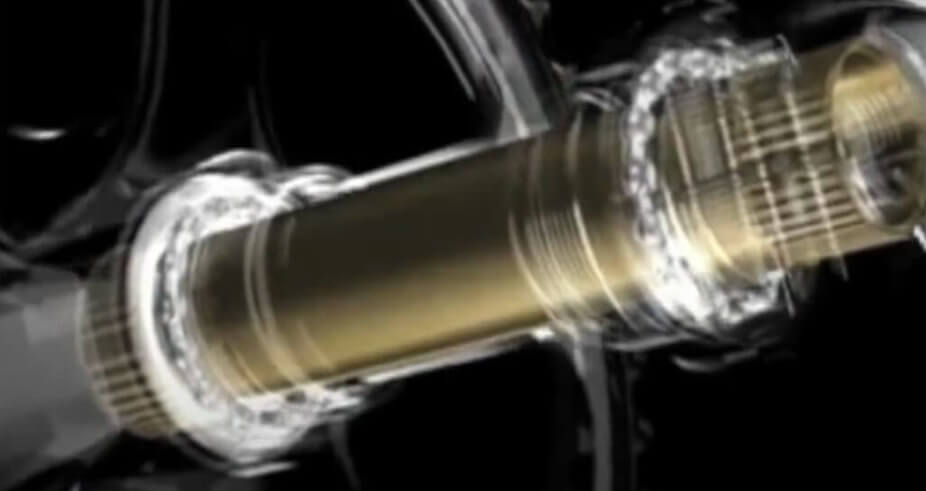 Main Features
The Perfect Mix
Best balance of stiffness, strength, weight and rotating performance
Super Durable
Increased durability due to high precision sealing

ICE TECHNOLOGIES
The fade, which can occur to disc brake rotor and pad when braking on a long downhill ride for instance, has a negative impact on the braking performance. SHIMANO has adopted ICE TECHNOLOGIES disc brake rotor and ICE TECHNOLOGIES pad to realize the cooling technology for consistent performance. The clad disc brake rotor blade, which has a 3 layer-sandwich structure of stainless steel, aluminum and stainless steel, provides better radiation performance. Also, the radiation fin has been adopted for the pad. Moreover, the clad disc brake rotor blade and the radiator fin provide long pad life, less noise, less fade and lightweight.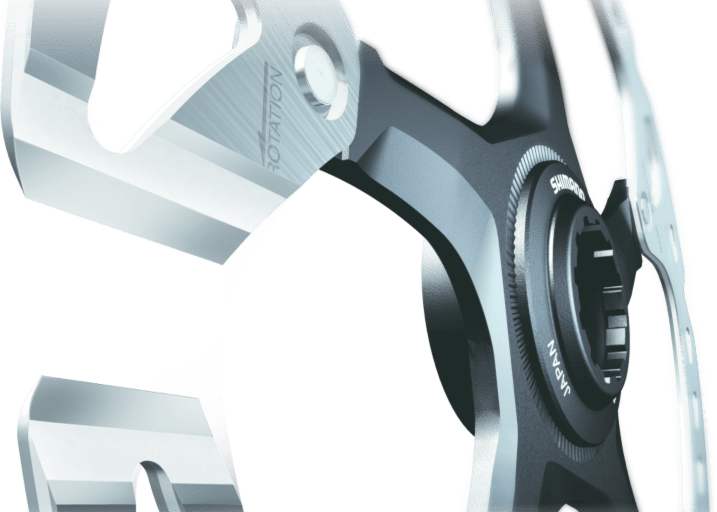 Shimano SIL-TEC Chain Technology
Amidst all the technological wizardry of modern drivetrains, it's easy to overlook one of the most important components of the group. The chain keeps the drivetrain running smoothly, overseeing the transfer of power while holding the system together. Much more than just the connection between the cranks and the cassette, the chain is a perfect loop of interconnected links, each performing with equal amounts of strength and precision.
Shimano boosts chain performance by using an ultra-low friction surface treatment called SIL-TEC to its top tier chains. This process involves applying imbedded fluorine particles to the chain using an advanced plating process that is superior to the simple coatings used in other chains. The benefits of SIL-TEC are significant to the performance of your chain and lead to a better ride experience from start to finish.
SIL-TEC delivers increased water and dirt resistance, which means the chain remains cleaner and dryer in all riding conditions. This enhances drivetrain efficiency, improves shifting performance, and allows the chain's lube to last longer with little interference from the elements. Additionally, SIL-TEC sheds mud 30% more effectively than chains with common Zinc-Nickel (Zn-Ni) plating treatments so riders can focus on the trail ahead and shift with confidence in all conditions.
Shimano SIL-TEC chains also help reduce friction in the drivetrain thanks to the slippery surface treatment. Chains that glide better over the chainring and cassette teeth are more efficient, so less energy is wasted in the mechanical process, and more power is transferred through the drivetrain. This means riders can use less energy and ride faster.
The SIL-TEC treatment also increases a chain's lifespan, especially when riding in mixed conditions. The slippery, efficient chains accumulate less wear and tear as they glide across the drivetrain so they stay newer longer. Chains with SIL-TEC are 20% more resistant to abrasion and will help keep your entire drivetrain running smoother for longer.
Each feature of Shimano's SIL-TEC treatment contributes to a bike that pedals smoothly and quietly, which riders will enjoy each time they ride. In quantitative terms, SIL-TEC brings a reduction in chain noise of -2.7 decibels thanks to a 60% reduction in rotation-based sliding friction. That's smooth silence you can hear and feel.
Shimano uses its SIL-TEC surface treatment on many top-tier products, including XTR mountain bike chains and Dura-Ace road chains. Often an afterthought on spec sheets and in riders' minds, the chain is actually a massive effort of engineering and manufacturing. It's an integral part of any drivetrain and is one of the easiest and most cost-effective upgrades you can make for your bike.