Wies Terryn wanted to be a bike mechanic ever since she was a little girl. When she was a child, her dad encouraged her to fix her own bikes. First, he showed her how to change a tyre. Then, he let her replace her chain. Soon, she was taking her bikes apart and putting them back together, always trying to learn more about how they worked. If something was broken, she would set out to fix it, trying and trying until she had got it. She dreamed of owning her own bike shop one day.
If there were races nearby, she and her family would go to watch them. She cycled to the Tour de France when it passed through Belgium and saw Marc Wauters pull on the yellow jersey. She won tickets from a newspaper to go watch Mario Cipollini win the world championships in Zolder.
Meanwhile, she was pursuing her own athletic career. When she was a teenager, she was among the top 20 runners in Belgium in the 800 metres and the 1500 metres and spent most of her free time travelling to meets. Unfortunately, Guillain-Barré disease stopped her from competing on the track. When she was 17, her legs and arms were temporarily paralysed. She decided to study to become a teacher.
For seven years, she worked in classrooms, giving lessons to schoolchildren. She still held on to her girlhood dream though. She was fascinated by bikes and loved sport. When she saw a chance to go work in her local cycling shop, Ghislain Cycles, she quit teaching and set out to become a mechanic.
It wasn't easy. She was the only lady.
"It was difficult for our clients to ask me questions, because I am a woman," she says. "They found it easier to ask my male colleagues. With the work too—I had to prove that I could do it. I was the only woman doing technical work. The only other ladies worked in the office, and I stood there between the men. For a man to accept that a woman could do the job, she had to do everything twice, when a man had to do it once."
Wies proved she could do the job well over and over again.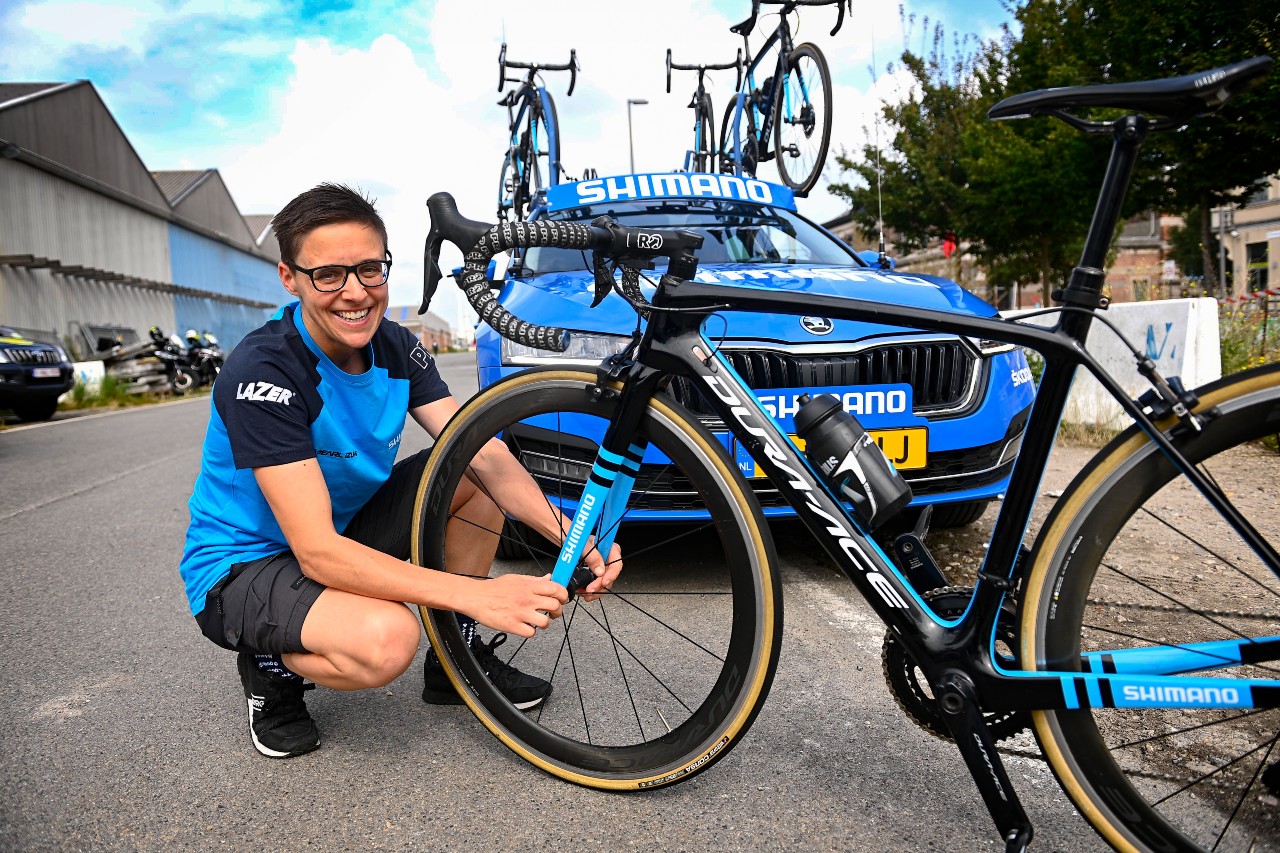 After a few years, the SEG Racing Academy contacted her. They were looking for a race mechanic for their Dutch development team and had heard that she might be interested. She certainly was. It was a chance to return to the world of high-performance sport, which she had always loved.
She decided to resign from the bike store and got a job at Ridley's technical service department, so she could work races on the weekends. She also starting teaching night classes in bicycle mechanics.
She has many fond memories of her time with SEG. A highlight was the 2019 Dutch national championships in Ede, where she worked for the winner Fabio Jakobsen, who was racing with the support of his former team. She is also proud of riders like Cees Bol and Jordi Meeus, with whom she worked when they were just starting out and have since become top-class pros. Working for SEG Racing Academy felt like coming home.
"You were one of the team members," Wies says. "If a rider's bike had been perfect, you were satisfied that he had crossed the finish with a good feeling. You were one of the links in the chain. When you are a mechanic in a team, you experience it all: from the preparation to the finish of a race. You live it along with the riders."
SEG's young racers were very enthusiastic about Wies' work. Those who made it to the World Tour still come by to say hello when they see her at the races. She now works for Shimano's Neutral Service team.
Last year, there were relatively few races for her to do with SEG, due to the COVID-19 restrictions. She tried applying to several World Tour squads but didn't get a reply from any of them. No one wanted to give her a chance. Then one of SEG's directeurs sportif introduced her to Shimano's Richard Groenendaal. He brought her to a race to see her work.
"With Richard, one race was enough", Wies says. "He just saw that I was capable. I really appreciate that."
Wies was hired, and has since worked some of the biggest races in professional cycling with Shimano. She enjoys the pressure. She loves working on the World Tour. It's where she belongs.
"In a race," she says, "you might have nothing to do, but at the crucial moment, if you have to change a wheel, it has to be perfect. You cannot make mistakes."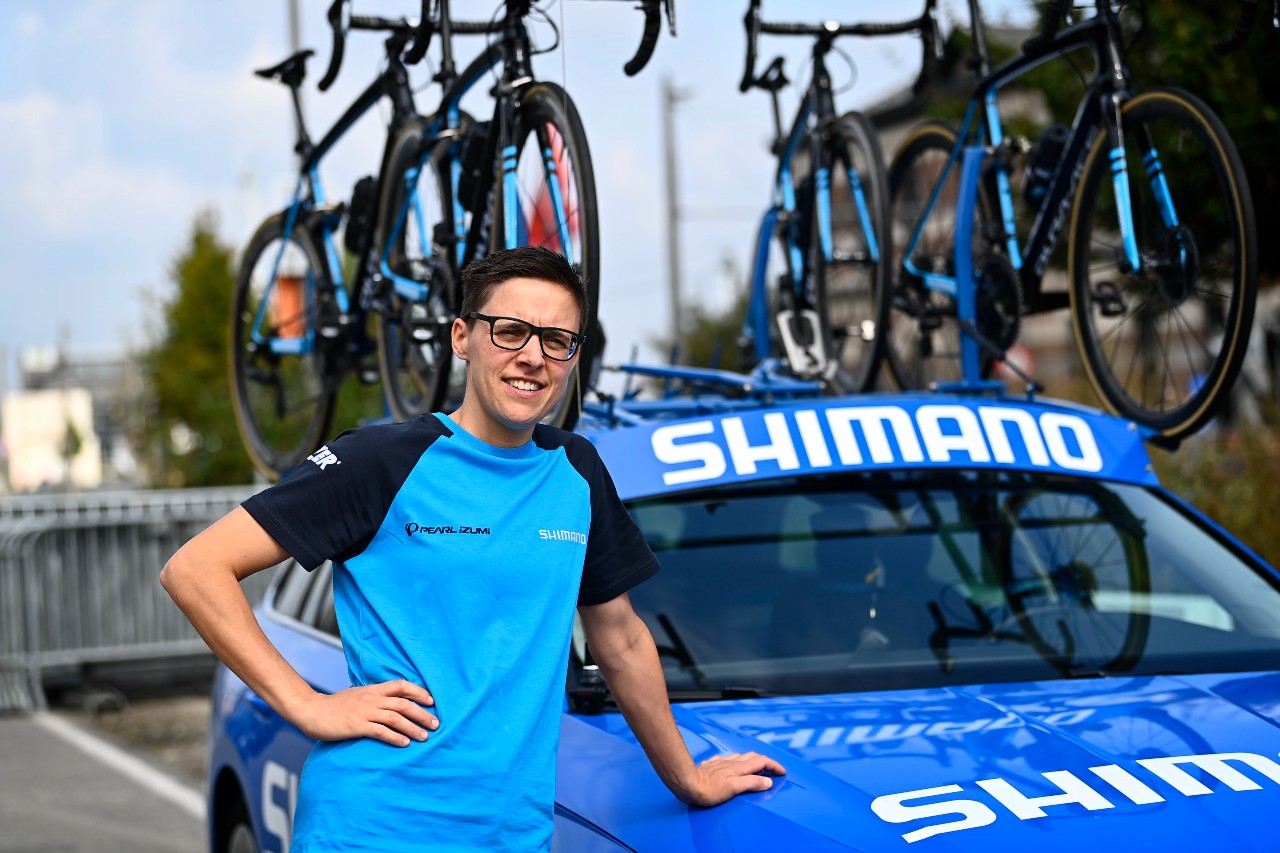 Wies is still the only female mechanic who works on the World Tour. That frustrates her. Fixing bikes is still seen by many as a job for men. But Wies knows bicycles. A wheel is true or it is not. A derailleur is tuned perfectly or it is not.
"I am sure that I'm a better mechanic than some of my male colleagues in the peloton," she says. "I am very sure that I can do the work as well or better than them."
At the night school where she teaches, Wies has not once had a female student. That frustrates her too.
"It's not that women can't do 'work for men' or men can't do 'women's work'", she says. "You have to do what you want to do."
Her advice for young girls who like bikes and might want to become mechanics is, "You have to try. Don't think, 'Wow, it's for men, so I'm not going to do it'. You have to do it. Do it!"