Yannick Runhart runs Team DSM's service course. It is his job to make sure that the team's trucks leave with the best equipment for every race. He oversees the team's mechanics and works with their partners and Team DSM's own research-and-development experts to make sure that their riders have every possible technological advantage when they race. It is a constant challenge, but Yannick loves his role. Team DSM's philosophy is his own.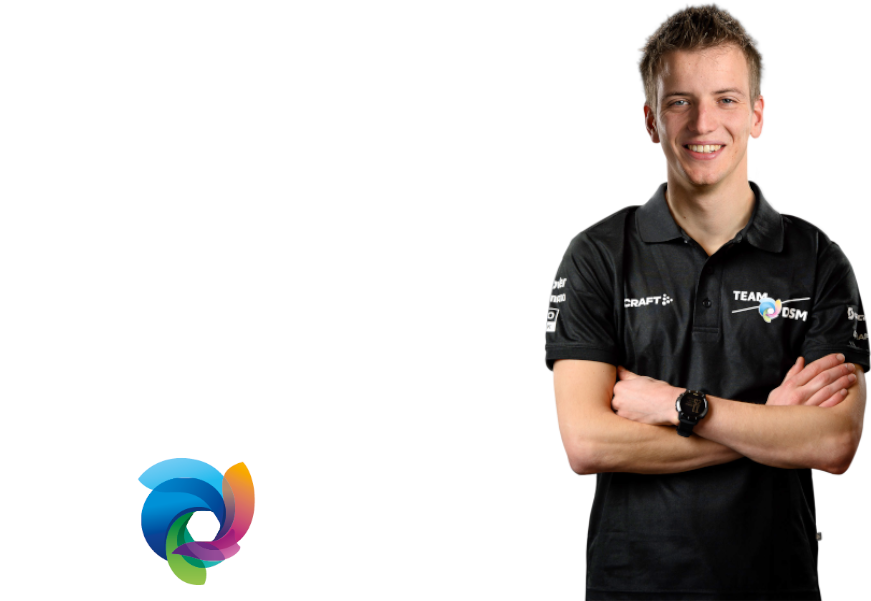 "You always need to keep challenging. Even if you win, you can still do better."
Yannick Runhart
"Keep Challenging means that you should always challenge yourself. Our logo has two stripes. One is for yourself, and one is for your team. You can always challenge yourself, but you can also make your team better by challenging them," he says. "Everyone has his own expertise, and if that is coordinated at the highest level, then you will get the best result. But you always need to keep challenging. Even if you win, you can still do better, so you can win again tomorrow. Otherwise, in two years you won't win any more races."
At Team DSM, everyone is always trying to better what they do. They think critically about the ways that they work and constantly ask, how can we improve that?
That is what Yannick has been doing ever since he got started in cycling.
"I started at a really young age at a bike shop on Saturdays, and when I started doing the races at 13, I always worked on my own bikes," he says. "My bike was always one of the nicest in the peloton. It always needed to be the best and the lightest that was available."
That uncompromising attitude brought Yannick a long way in cycling. He applied it to his training. Before long, he was racing mountain-bike World Cups. Then, he got a job at Shimano, where he worked for seven years as a mechanic. All this time, he has kept racing for fun, mostly on his cyclocross bike in winters. He loves committing to a big goal and working hard to achieve it. In recent years, he has twice won the Dutch national cyclocross championships for amateurs.
So, Yannick was excited when Team DSM requested that he join them. He loves working with the very best athletes and equipment, and Team DSM has a close working relationship with Shimano. Yannick could continue working with DURA-ACE.
The first version of Di2 had just been released when Yannick started working for Shimano. "We got that first groupset in the service department. That was the first time that I rode with it. Before, I was always on mechanical shifting. Di2 shifting was a really big step," he says. 
He has since seen DURA-ACE Di2 become ever lighter, more precise, and more powerful. The introduction of disc brakes was a great progression, which Yannick welcomed, since he'd been using them to great effect off-road for years.
With Team DSM, he has been involved in the development of DURA-ACE's latest iteration. The team has been testing the new groupset for over a year. They have brought prototypes to the wind tunnel, tested its technology on the track and on the roads of Paris-Roubaix, Strada Bianche, and the Tour of Flanders. At the Tour of Belgium earlier this year, they raced on a final prototype to make sure that the components can handle the harshest conditions they might see in competition.
All the while, the team has been challenging Shimano to make small improvements, assessing every detail of the groupset's performance and ergonomics and asking, what can be made better? 
Yannick has been an important liaison between Shimano and Team DSM.
He says that the riders are very happy with the final product. They are particularly impressed by the new disc brakes with SERVO WAVE technology, which offer them much more control and limitless braking power. 
"It might look like a small update," Yannick says. "But that is a really big one for the riders. If you are a pro or an amateur rider you will feel the difference for sure."
Meanwhile, Team DSM's mechanics adore the new, much simpler wireless cockpit.
"The biggest job of building a bike right now is arranging all the cables internally," Yannick says. "And now with a wireless cockpit, it's super easy. The previous version of Di2 was completely wired, and with this one there is only a wire between the front and the rear derailleur, so there are no cables in the cockpit anymore, which was always the difficult part, because that's where you have the bearings. That will take away half of the time of building a bike for sure."
This fall, Yannick is looking forward to riding the new DURA-ACE Di2 groupset himself. It will be time to challenge himself again. And he is not one to make compromises with his equipment. He wants to race on the best, lightest, and most durable components available.
"I've already been thinking, can I get it on my cyclocross bikes this winter?" he says.
Watch the video below, to see how Team DSM's Scott Addict RC was equipped with the new DURA-ACE.
Read more about the new DURA-ACE